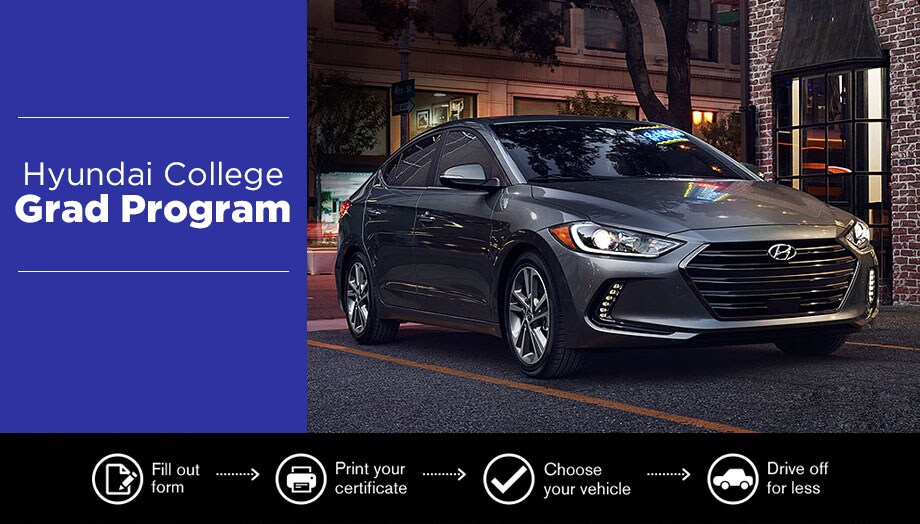 You've graduated college and you're in search of the perfect new car for the next chapter in your life. To get a car that's reliable yet incredibly stylish and comfortable, turn to our Hyundai dealership in Northampton, MA, and take advantage of the Hyundai College Grad Program. This exclusive special gives recent or soon-to-be college graduates a $400 bonus towards the purchase or lease of a new Hyundai vehicle. Whether you want a sleek new Hyundai Elantra sedan, or a versatile Hyundai Tucson SUV, we're happy to help you find the right new vehicle at Country Hyundai.

What You'll Need to Be Eligible:


A copy of your college diploma or a letter from the school's registrar's office stating you graduated within the past two years or that you will do so within the next six months.
Proof of employment, such as a paystub, or an offer letter from a potential employer.


You should be rewarded for your hard-earned accomplishment. After all, you've spent countless hours studying for exams and writing papers, so now it's time to reap the benefits. Buy or lease the new Hyundai model you need to ace those job interviews and make your commute more enjoyable as you climb the ladder of career success.

We have a number of schools in the area, including Springfield College, UMass Amherst, Mount Holyoke, Smith College and more, meaning there are droves of students looking for a dependable set of wheels. Whether you're finishing up your degree or you just received your diploma, we'd be thrilled if you came for a visit to Country Hyundai and explored your options. We'll set you up with the perfect new vehicle!